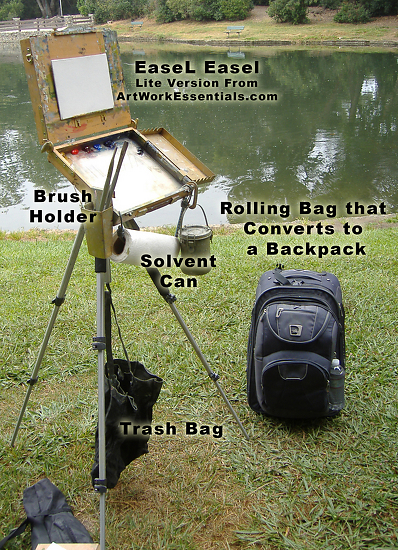 Above is an example of Kim's plein air set-up. All students will need to bring their own field easel and art supplies.
Weekly Plein Air (Outdoor) Oil Painting Classes for Beginning - Intermediate Students in Orange County, CA Thursday Mornings 9:30-12:30.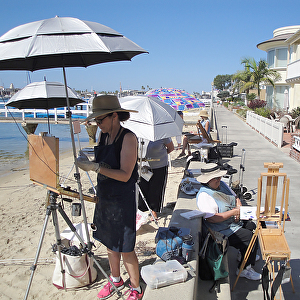 Cost is $120 for 4 classes. (No Class on May 16th)
Have you ever wanted to paint the landscape directly from life? There is nothing like being outdoors experiencing and observing nature first hand. Learn what so many other painters throughout the years have learned - that painting directly from life will make you a better artist!
This plein air (outdoor) oil painting class is for beginning to intermediate level students. During several classes I will demonstrate how I create a landscape painting. Beginning students may follow along with me while more experienced painters can work on their own scenes. I talk about color mixing, composition, focal point, color harmony, paint application, brushwork, selecting a subject and so much more. In class I teach an Impressionist style of painting, working wet into wet paint (if you are looking to learn how to paint photorealistically or to learn the old master's glazing techniques then this is not the class for you). Class size is limited so that I can give each student lots of individual attention. Students must have their own field easel and art supplies. Please email me for a the start date and art supply list for the next series of classes at kimvander77@aol.com
Here is what a few students had to say about one of my recent plein air classes -
"Kim selects great painting locations, and provides detailed directions to get you to the right spot. She works with both experienced and beginning painters and she takes the time to help you improve regardless of your skill level. Kim does a great job of explaining each step as she paints so that you understand what colors she mixed and why you would use those colors to get the desired effect. It was great to get some solid ideas for how to create 3D-space in a painting. I highly recommend her classes!" - Eric Wolff
"I am relatively new to painting with oils. I have taken both of Kim's classes. She limits class size to give enough personal attention to each studen. I find Kim to be very helpful and informative. She appreciates feedback and will do whatever she can to make a subject more understood. She has an easy personal style which is both positive and encouraging. Kim structures her teaching to make oil painting appear rather "simple". Her instructions are clear, concise and to the point. I highly recommend her classes to the beginner and to the more seasoned artist who wants to try the Plein air experience with a group!" - MaryAnne Ardito
"I really enjoyed Kim's class. She worked with each person individually and helped us see how to capture life on a 2-D surface. I particularly appreciated her teaching on perspective and how to mix colors to get the desired result. She gives good feedback and encouragement. I recommend her class for anyone wanting to improve their plein air skills." -
Carolyn Hoffman
Below is a photo of Kim's palette set-up.