Kim VanDerHoek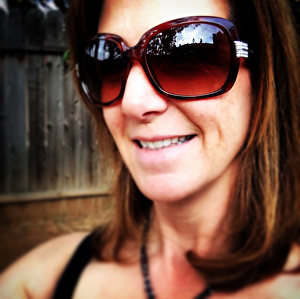 Phone: (949) 510-6921
Email: Kimvander77@aol.com
Born in Southern California and raised in Big Bear City, Kim spent many hours as a child climbing trees, sledding down snow-covered hills, horseback riding and hiking through the woods. Surrounded by the wild beauty of the forest Kim developed an early appreciation for the outdoors, which she continues to explore today through painting.
After graduating with a fine arts degree in illustration from the California College of the Arts in Oakland California Kim worked as a graphic designer for 11 years. She left the design field to pursue a career as a full-time painter. Today she paints in the studio as well as en plein air (painting outdoors).
She began painting en plein air because it combined her love of being outside and creating art. "I enjoy the challenges plein air painting poses. Dealing with the weather, changing light and other hurdles of outdoor painting has forced me to learn to make decisions quickly, to paint with commitment and above all, to have a plan for each painting." Kim feels that her plein air work has, in turn, strengthened her studio paintings.
"It is my hope that when you view my painting from across the room you can easily see what the subject is, then, upon closer inspection, you find yourself lost in the brushwork."
Kim is a signature member of the Laguna Plein Air Painters Association (LPAPA), a member of the American Impressionist Society (AIS), a member of the Southern California Plein Air Painters Association (SOCALPAPA), and an Artists member of the California Art Club (CAC).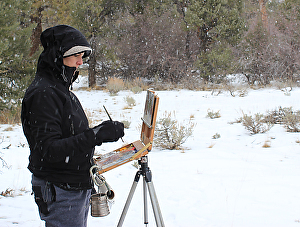 Art Education
Bachelor of Fine Arts, California College of the Arts, 1993

Awards
2010 Paint American Top 100
2011 Juried into the Salon International at Greenhouse Gallery
2011 Finalist for the American Artists Magazine Cover Competition
2011 Raymar Art Finalist, June
2011 Finalist in the Artist's Magazine Landscape/Interior Competition
2011 6" Squared Award at the Randy Higbee Gallery
2012 3rd Place Professional Artist's Award at the Scenes of Tustin Show at Chemers Gallery
2012 3rd Place Award at the LPAPA 8th Annual Best of Plein Air Show
2012 3rd Place Award at the SOCALPAPA Back Bay Show
2012 2nd Place Award at the Holiday Treasures Show - Debra Huse Gallery
2013 3rd Place Award at the LPAPA Less is More Show - Randy Higbee Gallery
2013 Randy Higbee Gallery Award for an Artist's Body of Work at the Laguna Plein Air Invitational
2013 3rd Place Daily Paintworks Monthly Painting Competition
2013 6" Squared Award at the Randy Higbee Gallery
2013 Judge's Choice Daily Paintworks Monthly Painting Competition
2014 Raymar Art Finalist, December
Art Exhibits
2009 NWSA Group Show at Copperwood Artware Gallery, Orange, CA
2009 Orange Open Group Art Show, Guggenheim Gallery, Orange, CA
2010 NWSA Group Show at Copperwood Artware Gallery, Orange, CA
2010 6" Squared Group Show at Randy Higbee Gallery, Costa Mesa, CA
2011 NWSA Group Show at Copperwood Artware Gallery, Orange, CA
2011 6" Squared Group Show at Randy Higbee Gallery, Costa Mesa, CA
2011 Salon International at Greenhouse Gallery
2011 Sonoma Plein Air Festival, Sonoma, CA
2011 San Luis Obispo Plein Air Festival, San Luis Obispo, CA
2011 Tustin Plein Air Festival, Tustin, CA
2012 NWSA Group Show at Copperwood Artware Gallery, Orange, CA
2012 Laguna Plein Air Painters Assoc. Best of Plein Air
2012 Southern California Plein Air Painters Back Bay Art Show & Sale
2012 Sonoma Plein Air Festival, Sonoma, CA
2012 Solo Exhibit, Copperwood Artware Gallery, Orange, CA
2012 6" Squared Group Show at Randy Higbee Gallery, Costa Mesa, CA
2012 Holiday Treasures Group Art Show at Debra Huse Gallery, Newport Beach, CA
2013 NWSA Group Show at Copperwood Artware Gallery, Orange, CA
2013 Springtime Magic Group Art Show & Sale, Crystal Cove Alliance, Newport Coast, CA
2013 LPAPA Less is More Group Art Show at Randy Higbee Gallery, Costa Mesa, CA
2013 Viewpoints, Scenes of OC Group Art Show at Chemers Gallery, Tustin, CA
2013 A Breath of Fresh Air Art Show and Sale, Crystal Cove Alliance, Newport Coast, CA
2013 LPAPA Best of Plein Air Group At Show at Randy Higbee Gallery, Costa Mesa, CA
2013 Slippery When Wet Group Art Show, Crystal Cove Alliance, Newport Coast, CA
2013 Easton Plein Air, Easton, MD
2013 Sonoma Plein Air Festival, Sonoma, CA
2013 Laguna Plein Air Invitational, Laguna Beach, CA
2013 6" Squared Group Show at Randy Higbee Gallery, Costa Mesa, CA
2013 Holiday Treasures Group Art Show at Debra Huse Gallery, Newport Beach, CA
2014 Viewpoints, Scenes of OC Group Art Show at Chemers Gallery, Tustin, CA
2014 Just Plein Fun, Plein Air Invitational, Huse Gallery
2014 Easton Plein Air, Easton, MD
2014 6" Squared Group Show at Randy Higbee Gallery, Costa Mesa, CA
2015 Viewpoints, Scenes of OC Group Art Show at Chemers Gallery, Tustin, CA
2015 Los Gatos Plein Air, Los Gatos, CA
2015 Sonoma Plein Air, Sonoma, CA