3851 S. Bear Street
Weekly Oil Painting Classes for Beginning - Intermediate Students in Orange County, CA
Every Monday Night 6:00-9:00.
This class is currently full. To add your name to the wait list email Kim at kimvander77@aol.com
Or you might want to consider joining one of my very popular outdoor painting classes. Scroll down to get more information about my upcoming plein air (outdoor) painting classes.
For a class description, a supply list and to see if there is room for you in the class please email Kim at kimvander77@aol.com
View
Oil Painting Classroom
in a larger map
Please note, my personal painting studio is NOT located here. This room is only used for classes.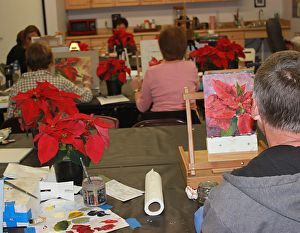 Cost is $35 per class. Oil painting classes for beginning to intermediate level students. Using a hands on approach I guide each student through the painting process. I talk about color mixing, creating shape using value, composition, focal point, color harmony, paint application, brushwork, selecting a subject and so much more. Class size is limited so that I can give each student lots of individual attention. Each week we will work from life or from a photograph. In class I teach an Impressionist style of painting, working wet into wet paint (if you are looking to learn how to paint photorealistically or to learn the old master's glazing techniques then this is not the class for you). The classroom is located in the Room & Board shopping center around the corner from the Showcase Gallery, enter through the "Studio." Also, because I've had inquiries, my painting studio is not located here. Please email me for a class description, a supply list and to see if there is an open space for you at Kimvander77@aol.com